If you are aiming to become a medical professional in the future, then you are going the right track. Being of service to the people is a vocation that can never be replaced by money or any material thing in this world. Thinking of the condition of others before yourself is a mission that you must embrace and love.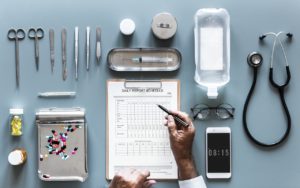 Although the steps before being a full-fledged doctor will not be easy, it is definitely a fulfilling one. In the end, all that matters is saving other people's lives, and you never know, maybe you are inspiring another kid or another person to become a physician in the future. It takes years and years of studying, working, and sleepless nights to become a medical doctor. But what are the things you must undergo first before being one? Let's find out.
First step
You must graduate highschool. You must enroll yourself in a pre-med course and earn a bachelor's degree. You must finish coursework in biology, chemistry, mathematics, and physics to become eligible to enroll for medical school. A student must have a background in natural science and as much as possible, experience in a health care setting. After completing a bachelor's degree and undergoing pregraduate courses mentioned above, we go to the next step.
Second step
Taking the UMAT (Undergraduate Medicine and Health Sciences Admission Test) or GAMSAT (Graduate Medical School Admissions Test) –depends if you are an undergraduate or a post-graduate. You should be able to achieve the required score to be considered eligible for entrance to a medical school. This, together with high grades, experience in a health care setting, and a high university entrance exam ranking, will put you at a higher chance to enter medical school.
Third Step
Once you are in medical school, it all starts then. You will undergo four years of studying, laboratories, and patient care under a senior physician's guide. You will be learning the basics and the cycle of a doctor's day. After finishing four years of med school enters the internship. The internship is basically working already in a hospital setting. It usually takes a year to complete, and a student must rotate in various subspecialties of medicine.
Fourth step
After the internship, you enter the residency program. You must choose which subspecialty of medicine you will pursue during this stage. It can be as short as three years to as long as eight years, depending on what branch of medicine you are in. After then, you apply for licensure. Passing the licensure must be your goal from the very first day that you entered medicine. Only then you can practice independently. You can also apply for a specialist career which can take another four or five years to become a specialist in a specific field.